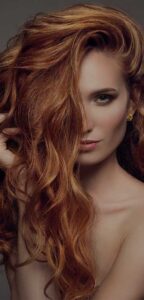 Experience the modern Hairstyling diploma program delivered by passionate and industry leading experienced instructors.  With a strong emphasis on practical application of skills, live demonstrations, and the industry's bests guest artists we strive to create a successful artistic, confident hairstylist.
The training includes an extensive library of industry leading instructional videos addressing haircutting, barbering, styling, color, foils, advanced color techniques, perm, consultation, retailing, health and safety and waxing. The videos are used to aid in the classroom and practical instruction. The instructional videos are available to students on their personal devices (Phone. PC, tablet) while attending the program.
Add the Barbering training option to increase your skills and job opportunity. The Barbering adds training to elevate your skills with Fades, blending, lining, beard trims and shaves.
Artist. Stylist. Technician. Entrepreneur – Hair Professional
Hairstyling is no longer what it used to be. The days of just walking into a barber shop and getting a trim and a shave are long gone and today, being a hairstylist or barber is a demanding and challenging career that takes design, art and creativity to a whole new level. The scope for employment for a professional hairstylist is enormous, with many hairstylists opening their own salons exclusively for hairstyling. Others go into consultancy and still others have made a lucrative career out of the production and marketing of hair care products.
Beauty Professionals are in High Demand
A career in hairstyling can be a challenging one, as the need for cutting edge stylists is very high, both in the entertainment field and in everyday life. More and more people want to look good and are willing to take the risk to try something different. A professional hairstylist must be able to find a cut and style that will suit their client and ensure that the client is satisfied enough to be a return again. Hairstylists must also be aware of dermatological issues and the ways in which to treat damaged or undernourished hair.
Program Information
Course Start dates:
March, June, September and November
Program Length:
43 weeks, 1500 hours
Program Schedule:
Monday to Friday 9 AM to 5 PM
Client services for practical experience scheduled during the week and on Saturdays
Theory and demos scheduled from 9am – 11:30am via remote conferencing (Zoom) to ensure social distancing is maintained and flexible access is provided.
Education Requirements:
Grade 12 OR equivalent
Dress Standard:
All black
Get 10% off on Beauty products on colour day!